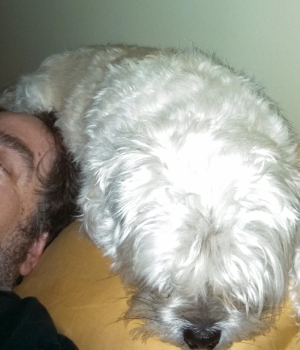 My wife and I arrived home early Tuesday morning, and as is the way with redeye flights we were so wiped out that we spent most of Tuesday sleeping. So it goes.
Northern California had wonderful weather while we were there, but the temperatures in Philadelphia had apparently been climbing. Yesterday, it got downright unpleasant with a high that breached 90 degrees and more humidity than I care for.
No worries, we thought, just stay inside and bask in the A/C. Except… last winter we had been having some problems with the system and replaced the thermostat. Yesterday when we went to turn on the A/C for the first time, well, it didn't come on.
It was too late to call the repair people (believe me, we tried). We just had to suck it up, open some windows, and pray for a cross breeze. It was less than ideal sleeping weather, and my dog agreed. Normally he stays at the foot of the bed, but in his own heat-related discomfort he decided he might be better off sleeping on my pillow and alongside my head instead. Of course he quickly discovered that I was just another source of heat and fled, but he lingered long enough for this photo.
The repairs occurred earlier today and despite the temperature and humidity outside, the house is now delightful inside. Mind you, I'm leaving on an early morning flight to Kansas City tomorrow, and for all I know my dog sleeps on my pillow when I'm gone.
Tags: Gej