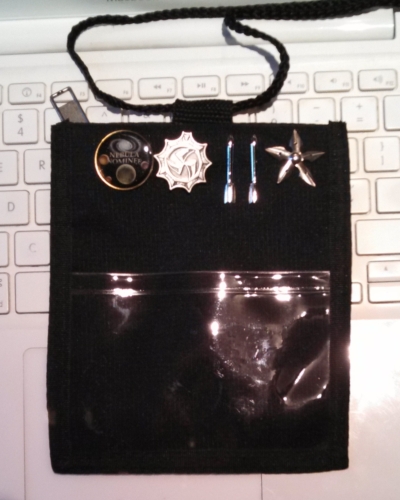 Back on Memorial Day, while I was basking in the warm afterglow that was ConQuesT, I began thinking ahead to the Worldcon and realized that I wanted a better badge holder. All too often, in my experience, badges come on lanyards that spin and twist, and half the time the damn thing is facing the wrong way. Speaking as someone who has gone through life with a major deficit when it comes to recalling names and faces, being able to glance at someone's badge and realize "oh, I know this person!" is a huge help (not to mention a boon to saving face).
Of course I cannot control what other convention guests and attendees will do to ensure their own badges are readable not until my plans for world domination come to fruition, I can at least make life easier for others who are trying to figure out what my name is (this is a purely hypothetical situation, as surely no one who has met me could possibly forget my name; ahem).
And so I set off on my quest, which is a nice way of saying I sat in front of my laptop, opened a browser window, and signed on to eBay. And lo, I found a lovely and practical and inexpensive neckwallet. The model I chose not only has a clear plastic slot for displaying the actual convention badge, but two zippered pouches, one in back and one inside. You read that right, inside, because this puppy opens up (you know, like a wallet) where it has slots for credit cards and IDs on one side — one of which has a plastic display window — and the afore-mentioned second zippered pouch on the facing side, which I didn't previously mention also has a plastic window. The wallet closes tightly with a bit of velcro (hey, who doesn't love velcro?), and the whole thing is reinforced with a quarter-inch, double-stitched border, front and back.
And, because I knew I'd want to affix the "shinies" along the top edge, as long as I was on eBay I went searching for some pin-locks and found a nice pack that came with the necessary allen wrench. I bought both items and together they came to less than ten bucks (including shipping). Both packages arrived today and you can see the assembled result in the photo.
It's a small thing, but it made me very happy. 😀 If you'd like to see it in person, I plan on sporting it at the Worldcon (aka LoneStarCon3) in San Antonio this summer.

And for those of you playing along at home, the "shinies" are, from right to left:
the pin Jay Lake commissioned and which is now given out to all Campbell (not a Hugo) Award nominees.
the Hugo pin I received for my Campbell nomination in 2007 (which was prior to Jay's creation of the other pin, and just because it's been superseded I'll be damned if I'm going to stop wearing a fairly acquired rocket pin!).
the Hugo pin I received for my nomination for best short story of 2010.
the official badge of the Klingon Language Institute (just because, okay?).
the Nebula pin I received last month for my nomination for best novella of 2012.
Tags: Appearance, Conventions, Writing