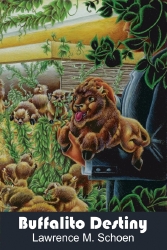 So, if you've been paying attention, you'll recall that just yesterday I announced that my 2009 novel from Hadley Rille Books, Buffalito Destiny, could be acquired for a mere $3.00 by Kindle-users over on Amazon.
While there was much rejoicing, there was also a great disturbance in the Force, as if millions of voices suddenly cried out in terror and were suddenly silenced. Or something like that. I like to think it was from all the rest of the e-reading public who fill their ebook fix via the much more popular format known as ePub.
As you know, Bob, Barnes & Noble's ereader, the Nook, uses that format, and while there are still a few bugs in the system (e.g., they don't have the cover art showing yet), Buffalito Destiny is now available in ePub format via BN.com, specifically right here at this link. And yes, it's still only three bucks!
And again, because the ebook is being published via Paper Golem, it's covered by our FREE EBOOK policy which says if you've already bought a physical copy of book then you're entitled to the ebook version (either mobi or ePub format) for free. If this applies to you, follow this link to find out how to get yours.
Tags: Books, Conroyverse, Paper Golem, Publishing