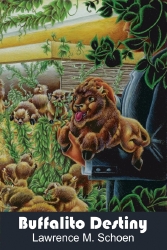 In 2009 Hadley Rille Books published my first novel, Buffalito Destiny, making it available in both Trade Paperback and Hardcover editions.
Beginning today, my own small press, Paper Golem, has made it available for the Kindle, and it only costs three dollars!
Seriously, a mere three bucks. No more excuses. Plus today's my half-birthday, so… yeah, that means you should get a copy, right?
You can click this link and you'll be whisked instantly to Amazon where you can buy a copy (and I encourage you to use that link as I'll get a bit extra, courtesy of Amazon's Affiliation program).
But also, because the ebook is being published via Paper Golem, it's covered by our FREE EBOOK policy. Specifically, if you've already bought the book in "dead tree" format, Paper Golem will send you the ebook version (either mobi or ePub format) at no cost. Check out this link for the details.

And a special shout out to Elektra Hammond for her efforts improving the readability of the ebook!
Tags: Books, Conroyverse, Paper Golem, Publishing