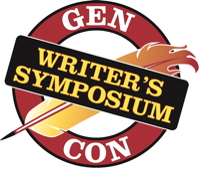 Huh. Oh well, I thought this had posted to the blog a couple weeks ago, but apparently not. Soo…
And now for something completely different, in a calendar year that has had me bouncing around the country to an unprecedented number of conventions and bookstore signings — and beginning about two weeks before I head off to Kansas City for the Worldcon — I'm going to Indianapolis to take part in the GenCon Writers' Symposium 2016.
And not just me, but dozens of brilliant authors (as well as some agents and editors) too. And, oh yeah, I think there's a big gaming convention going on around us at the same time.
Anyway, here's where you can find me:
Thursday, August 4th
9:00 a.m. (Capital 1) Special Event: Symposium Opening Ceremonies
With Marc Tassin
10:00 a.m. (Chamber) Short Fiction: Plotting Short Stories
With Donald J. Bingle, Gabrielle Harbowy, John Helfers (M), and Sunil Patel
2:00 p.m. (Chamber) Short Fiction: Where to Start the Story
With Marie Brennan, Steve Drew (M), Cat Rambo, and Peter Tieryas
Friday, August 5th
9:00 a.m. (Chamber) Marketing: Social Media 101
With Gwenda Bond, Joshua Alan Doetsch, Steve Drew (M), Melanie R. Meadors
1:00 p.m. (Causus) Writing Novels: Story Arcs that Drive the Reader
With Matt Forbeck, John Helfers (M), Jody Lynn Nye, and Aaron Rosenberg
2:00 p.m. (Capital 1) Character Craft: Characters That Aren't Reflections of You
With Rachel Dunne, Susan J. Morris (M), Carrie Patel, and Aaron Rosenberg
5:00 p.m. (Cabinet) Writer's Craft: How to make your alien language alien
Saturday, August 6th
12:00 p.m. (Chamber) Writer's Craft: Fun Story, Smart Message
With James Lowder, Christoper Rowe, Aaron Rosenberg, and Gregory A. Wilson (M)
5:00 p.m. (Congress II) Reading
With Sunil Patel

As always, all of the above can change, from topics to timing to the people listed. If I become aware of any major changes prior to the event, I'll do my best to post a "final" schedule.
See you at GenCon!
Tags: Appearance, Conventions, Reading, Writing