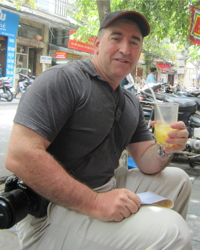 One of the odd things about this year's NASFiC (waaay back in July) was that there were so few authors present. As it turned out, that worked out really well for me because it meant I got to spend much more time hanging out with Jonathan Brazee, this week's EATING AUTHORS guest.
Jonathon's a retired marine colonel (the ubiquitous cap he wears is a big clue). He's also a bit of renaissance man, having ridden and raised prize-winning horses, mastered gourmet cooking, earned a doctorate in business, and traveled to more than a 100 countries around the world. So while we were in San Juan I put him to the test and off we went (with my chef-wife) to do some fine dining. It was a great experience, so naturally I had to invite him here.
The other thing you need to know about Jonathan is he's one of that growing number of extremely successful Indie authors, making a good living via his fiction. The secret, as most Indies will tell you, comes down to two things: volume and speed. Maybe it's that military discipline, but in eight years he's produced multiple series (including The United Federation Marine Corps, Women of the United Federation Marines, and Werewolf of Marines, and yes, you may be sensing a theme) and more than forty titles.
He released his latest effort, Alliance (volume one of The United Federation Marine Corps' Grub Wars) one week ago today.
Semper Fidelis!

LMS: Welcome, Jonathan. Given all your travels, I'm especially curious to learn what stands out as your most memorable meal.
JPB: As a dedicated foodie, I've probably had more than my fair share of memorable meals. They range the gamut from fruit bat cooked in a section of bamboo (my first solid food after three days in the Philippine jungle), a Saigon hole-in-the-wall with the most amazing grilled pork, a Michelin-starred restaurant in Dijon where I had oeuf bourguignon (eggs in burgundy), to three tiny mounds of simple soba made by one of Japan's eleven master noodle makers ($75 in 1978). Memorable all, but when I had to think of it, one meal kept coming to mind.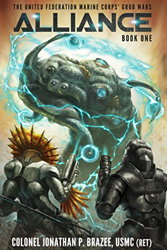 I was in Iraq during 2006 as the military liaison to USAID. This was before the Awakening, and we had to continually deal with the Sunni sheiks, men who were afraid to meet with us in Al Anbar, so we had to travel to Amman. During one week-long meeting, we had one night free from the formal dinners. My Marine boss, a brigadier general, was told to arrange for dinner for the American contingent. He didn't know where to go, so I told him I had the place: The Greater Amman Restaurant, just half-a-mile from the US embassy. Our party was about 20-strong and included the US ambassadors to Iraq and Jordan as well as the USAID director for Iraq.
Now, The Greater Amman Restaurant is not particularly impressive. It is small, the cooking counter greets you as you come in, and the seats are simple white plastic. When our august group entered, the general about had an attack, asking me to where the heck I'd just dragged everyone. I kept trying to calm him, but he was almost in a state of panic. The ambassador to Jordan looked skeptical, but he put on a brave face and made some jokes about the place as he took a seat.
The staff immediately brought out a few types of hummus, pita, and some veggies, and people started grazing while lost in conversations. I gave them our order: two kgs of rayshish (lamb chops) and one each of two kinds of kebabs along with assorted sides. Ten minutes later, the food came out and was plopped on our tables family style. I was with the underlings at the kids' table, and I looked up at the two ambassadors. The ambassador to Iraq was an Iraqi-American, and he immediately stabbed a lamb chop and transferred it to his plate, but the ambassador to Jordan was more hesitant. Conversation barely paused as people began to serve themselves. Quickly, though, that conversation petered out as people began to eat faster and grab more food from the plates. Within two minutes, not a word was being spoken. Everyone seemed to have one goal in mind: eat fast and eat a lot.
I was no different. I had discovered this place late one night while preparing a presentation, and this was my fourth or fifth time there. The lamb chops were simply the best I've ever had, and I wanted my fair share.
I was interrupted, however, when the ambassador to Jordan called out, "Colonel, do you think it would be possible to order some more?" as a general groundswell of approval rose up at his words.
I ordered another round of meats, pita, and their signature salad. Twenty minutes later, I had to order yet another couple of kg of lamb chops. All told, we ate 12 kg of meat, more than a pound per person. When we finally finished, several people ordered more to go, and the ambassador came up to me wondering how he'd never heard of the place when it was just down the road from the embassy. He was soon asking the staff about catering at embassy functions.
The Greater Amman Restaurant is not the best restaurant at which I've ever dined. The lamb chops were the best I've eaten, but the place is just a neighborhood cafe that serves a good meal. I think what made this memorable for me was the old looks can be deceiving trope. We'd been eating at grand events complete with dancers, music, and tuxedoed waiters bringing the best food the country's greatest chefs could prepare, but when it got down to it, the food was better at a more down-to-earth place.

Thanks, Jonathan. I have to wonder if the ensuing decade of inevitable attention from the nearby embassy has changed the experience and the quality. When are you heading back to find out?
Next Monday: Another author and another meal!
Want to never miss an installment of EATING AUTHORS?
Click this link and sign up for a weekly email to bring you here as soon as they post.