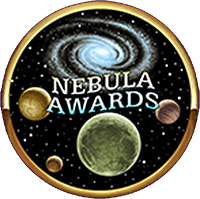 Coming up on Thursday is the start of this year's Nebula Awards Weekend. I expect to be kept pretty busy with an action packed few days complete with a tour of the Air and Space Museum, a workshop on e-book design, a presentation on memory (okay, I'll be running that one), a mass signing, and more brilliant authors than you can count!
Now, to be fair, part of the problem with counting all those authors may be due to their tendency to not cluster in any one place for too long that isn't a bar, or just as likely a problem with your ability to count because you've followed them to the bar and as part of your disguise you've been drinking.
While attendance at the various panels, programs, and workshops does require a membership, anyone can come to the mass autograph session on Friday from 5:30 p.m. until 7:30 p.m. at the Hyatt Regency Crystal City.
There will also be a "Book Depot" where you can pick up copies of books by many of the authors who will be present. That will run Friday from 11:00 a.m. – 3:00 p.m. and again from 5:30 p.m. – 7:30 p.m., Saturday 10:00 a.m. – 4:00 p.m., and Sunday 10:00 a.m. – Noon. I've made arrangements for the Book Depot to have some of my titles, as well as copies of books published by Paper Golem.
Hope to see you there!
Tags: Appearance, Conventions