One of the wonderful things that can happen at a Worldcon is that I'll run into someone I haven't seen in years, which is precisely the case with this week's guest, Patrick Swenson. I found him at a table in the Dealers' Room, and over a very quick chat (it was his table and he was shamelessly involved in acts of commerce) learned that he'd had a novel (The Ultra Thin Man) come out the previous summer, and indeed that the paperback version had been released only the month before. Naturally, I had to invite him to visit here on EATING AUTHORS.
If you're a writer, you probably know Patrick because you sent him a submission. For fourteen years, he edited Talebones, a magazine published by the imprint he started in 2000, Fairwood Press. The magazine is gone, but the press continues, publishing books by some impressive authors including Michael Bishop, Ken Scholes, James Van Pelt, and the late Jay Lake.
In addition to running a small press, Patrick also facilitates one of the most popular writing escapes, the Rainforest Writers' Retreat. Set on the shores of Lake Quinault, in the Quinault Rainforest, it's an excuse to get away to paradise. Oh, and also to write. Check it out, but I'll warn you now, the three 2016 sessions are already sold out. However, Patrick assures me you can sign up for a spot on the waiting list.

LMS: Welcome, Patrick. Thanks for being here on such short notice. So, talk to me. What's your most memorable meal?
PS: I thought about giving folks the lowdown on a family traditonal meal we serve only on Christmas Eve, then for breakfast the next few days: a Norwegian delicacy called Klube. It's anything but delicate. Big potato and onion balls, basically. It's almost a full day process to grind potatos, onions, and leaf lard, then flour up the spuds until a ball can be formed with the onion mixture in the middle. They're boiled and, ironically, when they're done, they float to the top of the big kettle (thanks to the baking powder). Klube is served that first night with Swedish meatballs and lefsa, then again in the morning sliced and fried with bacon.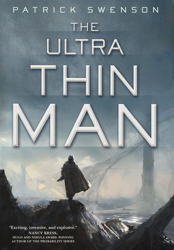 The most memorable meal out on the town, however, came in 1996. I know the date because it was the year when the film Big Night debuted. It starred Stanly Tucci and Tony Shalhoub as two Italian brothers trying to make a go in New York with their own restaurant. It is one of my favorite films, and one of the best films featuring food that I've ever seen. The brothers serve a feast, hoping to impress a big-time guest and save the struggling restaurant.
I saw the film at the Seven Gables theater in Seattle's Capitol Hill neighborhood. It's a cozy environment, a house with a gabled roof. The theater sits above an Italian restaurant. It's called Ristorante Doria now, but in 1996, it was Ristorante Mama Melina. I'm not sure if it was Big Night's opening night, but I recall about a dozen of us (mostly writers) meeting there to see the movie. During the movie's run, Mama Melina's recreated a portion from the menu featured in the movie, serving it right after the film. The aroma from the kitchen as the food cooked wafted maddeningly into the theater above.
The scruptious centerpiece was timpano, a big dough pie with layers of meat, cheese, sauce, pasta, and hard-boiled eggs. (If you want to know all about timpano, try this clip from the film!)
There was consomme with pasta, there was salad, there was a risotto. I can't recall the other options on the menu now. The overall experience meant one of the best meals ever. Good film, good food, and good friends.

Thanks, Patrick. And, let me just say now how much I hate you. I must try timpano. I must! But I've never seen it on any menu. You've doomed me!
Next Monday: Another author and another meal!