As this post hits the internet, it's officially ninety-nine days until the release of Barsk: The Elephants' Graveyard, and as a result, my dance card is filling up with pre-launch obligations. On Saturday I'll be at the Baltimore Book Festival, and a couple weeks later I have appearances at New York Comic Con and Capclave, and November is even more hectic with the World Fantasy Conference, Philcon, and ChessieCon. So, yeah, busy times.
Fortunately for keeping my ego in check, I have these Monday blog posts to bring you each week, a great opportunity to focus on someone else and share yet another writer with you, the readers of EATING AUTHORS. This week's guest is Jennifer Brozek, and while she's probably best known for her work as an editor (for which she received a Hugo nomination) and as a freelance author working on sourcebooks for a wide range of RPGs, her fiction sales actually include more than sixty short stories, various collections, and several novels. Her newest book, Never Let Me Sleep (book one of The Melissa Allen Trilogy) comes out from Permuted Press in three weeks.

LMS: Welcome, Jennifer. What pops into your head when I ask you to talk about your most memorable meal?
JB: Two meals immediately come to mind; one I make and one I buy. As I can only speak about one meal, I will simply encourage you to watch the YouTube video, the Inside-Out Grilled Cheese Sandwich, and encourage you to try it as the video instructs. You will not be disappointed.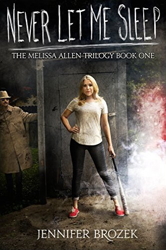 The other meal is a ramen meal. I'm not talking about the salty, dried noodle variety. I'm talking about the ramen at Kukai Ramen in Bellevue, WA. I've always been a fan of ramen and noodles in general. When I heard about Kukai Ramen, with its slow-cooked pork broth, handmade noodles, and soy sauce soft-boiled eggs, I knew I needed to try it.
Kukai Ramen did not disappoint. Run by a Japanese chef, the ramen broth is so savory and flavorful, it warms the soul. The noodles are firm, chewy, and tasty. Who knew ramen noodles had taste? The vegetables are always fresh. The soy sauce egg is one of my favorite parts of the meal. I always get an extra egg. I eat half at the restaurant and pack half to eat at home—always packing the noodles in a separate container from the broth. This ramen is a meal that satisfies and it is always as good as my memory of it each time I treat myself.
The best kind of favorite meals are the ones you can repeat without disappointment.

Thanks, Jennifer. That's a powerful and simple truth to end on. Replication, as any good researcher will tell you, is the key to advancing science!
Next Monday: Another author and another meal!