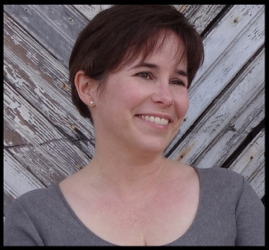 I've been looking forward to this week's edition of EATING AUTHORS for months. Not just because Fran Wilde is another of the coterie of Philadelphia-based authors, nor because she's branded as one of Tor Books' Next Generation of SFF Authors, nor even because she writes the very popular blog Cooking the Books. No, I've been eagerly awaiting this installment because it gives me such delight to be able to tell you that her debut novel, Updraft, releases tomorrow!
Before going any further, some disambiguation is in order. This is not the Fran Wilde who is a New Zealand politician. Nor does she have a bridge named after her (don't believe her if she tells you otherwise). On the other hand, that same-name former Wellington mayor surely lacks my guest's cred as a Geek Mom, programmer, or writing instructor. And don't get me started on her interest in food. It's become schtick to put the two of us on Food Panels together when we're at the same conventions.
The other thing I have to tell you is that while tomorrow's release is her novel debut, it is not her writing debut. Other stories exist (both published and soon-to-be) in her Bone Universe, as well as short works in two other series (her Moon Universe and the Gem Universe), as well as a world she's created for the folks Storium for their storyteller gaming world. Fran has ideas, and they're too big to be contained in single stories or even individual novels.
The last thing you need to know is that somehow Fran has managed to alter all the world's calendars. Tomorrow is not the first day of September. Rather, at least for 2015, the month is to be known as "Uptember." Trust me, I've learned not to argue with her.

LMS: Welcome, Fran, and congratulations on being a published novelist! Now then, are you ready for the question? What's your most memorable meal?
FW: You know, I knew this question was coming and I thought I was prepared. But I wasn't. There are too many choices.
There's a meal I had in Amsterdam, after spending a day deliberately quiet and alone, where every taste rang like a bell, and the action of eating — alone, in public — felt so deliberate. There's another that was just bread and cheese in a cheap hostel room with my sister when she was sixteen and I was twenty-one, the two of us laughing crazy and a little sad over a travel snafu. There are meals I cook with my family: music on, all of us sharing the cookbook, mess everywhere.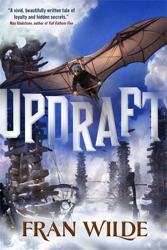 But the best meal I've had has been going on for fifteen years. It began as a spring potluck, to coincide with Easter and Passover, among friends in my Baltimore City neighborhood of Fells' Point. Our year, we cleared out all the furniture from the first floor of our nine-foot-wide rowhouse, lined up planks on sawhorses, and covered it all with bedsheets and borrowed flatware and china. Someone lent us enough chairs to seat twenty (maybe more), and everyone brought a dish or a drink. There were ridiculous bonnets. Over the course of the meal, the centerpieces were deconstructed and put back together again in … odd ways. And the food was delicious. Cheese grits, ham, asparagus, hot-cross buns, pralines, stuffed zucchini flowers. Pie. But the best part was the noise. Everyone laughing and talking and misbehaving.
Several years after, we moved from that neighborhood in the heat of August. That September, we got a note, saying to hold the potluck weekend date open, for the duration of our "trip abroad." And so we came back home for that meal, and have been doing so ever since. The people at the table change now and then, the hosts vary, there's always different food. But that meal is always the best because it means home and friendship, community and family-of-the-heart.

Thanks, Fran. I agree. Recurring meals blend the ceremonial and the social, and carry the weight, wonderment, and joy of their predecessors. You can taste it in every bite.
Next Monday: Another author and another meal!
photo credit: Dan Magus
#SFWApro