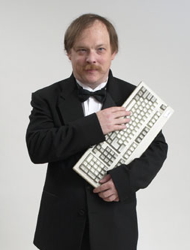 Somewhere, it is Monday. In theory, if this has posted, I should have returned to Philadelphia after an evening flight from Chicago and the glory that was the 50th annual celebration known as the Nebula Awards Weekend.
At the time I write this, I don't know the outcome of my award category, but if you're a dreamer the odds-makers in Vegas probably offered a nice return for the longshot. As they say, it's an honor just being nominated, and really that's true. I've been there before, and it's part of why I like to showcase each year's Campbell Award nominees here on EATING AUTHORS, because win or lose, surely they are all worth taking a closer look at and their work deserves your attention.
I've crossed paths with this week's guest numerous times over the years, owing to our mutual interest in SF and state of residence, and so I immediately recognized his name on the nomination list. But to most people, Eric S. Raymond (aka ESR) is perhaps famous as a leading advocate for open source software. And what makes his presence on this year's list of Campbell nominees particularly intriguing is that his bibliography of SFF publications consists of only a single short story, "Sucker Punch," which he's described as
a solid, craftsmanlike first effort that delivers what its opening promises and suggests the author might be able to deliver quality work in the future
and has expressed his own doubts regarding his nomination, fearing his name on the ballot is more a reflection of his politics than his storytelling ability.
We'll see how it all pans out later this summer. In the meantime, here are his thoughts on his most memorable meal.

LMS: Welcome, Eric. What stands out in your memory, meal-wise?
ESR: Some years ago I was the headline speaker at an Academica Sinica conference
in Taipei.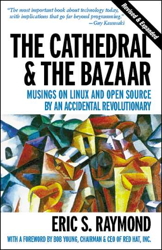 (This was me wearing one of my non-SF-author hats as a famous Internet geek.)
The night before the conference, the organizers treated all the speakers to a banquet at what they described as a "5-star Shanghainese restaurant."
Oh sweet Goddess that food was good.
Some of the individual dishes were things I had eaten before; I like Chinese cooking and seek out high-end examples. But the whole was brought to a pitch of perfection I have not experienced before or since.

Thanks, Eric. "Pitch of perfection" is a phrase that's going to echo in my mind the next time I have Chinese.
Next Monday: Another author and another meal!