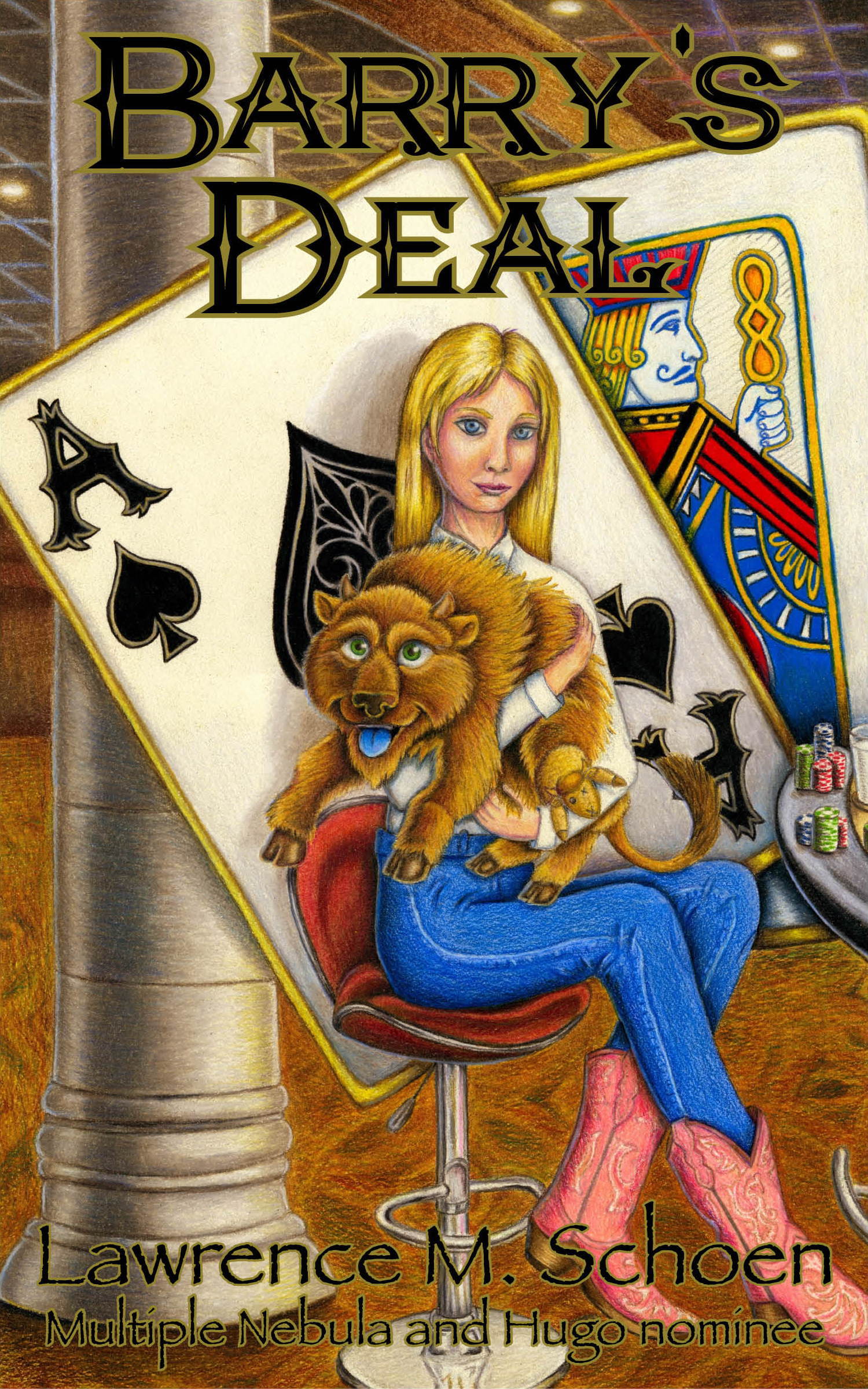 Next month, the fine folks at NobleFusion Press will be publishing Barry's Deal, the fourth novella-length adventure in the ongoing tales of my galaxy-traveling stage hypnotist, the Amazing Conroy, and Reggie, his alien companion animal, a "buffalo dog" who can eat anything and farts oxygen.
This latest story features Conroy traveling to Triton, to a casino hotel with old friend LeftJohn Mocker, a professional gambler with a double Coltrane rating. Why Triton? Well, there's an illegal auction scheduled there where Conroy hopes to win a bottle of Stonefish liqueur, and the Mocker was on his way there anyway at the request of the Probability Guild to investigate allegations of cheating. It looks like everyone will get what they want except… the cheater turns out to be a Angela Colson, an eleven-year old girl of incredible power! Conroy saved her life five years earlier (back in the Nebula-finalist Barry's Tale). That's her pictured on the cover of Buffalito Buffet at the bottom of this page. Somehow she's back, somehow appears to be in her late teens, and somehow has taken the casino for over ten million bucks!
Throw in an evil psychometrist portmaster with a grudge against LeftJohn Mocker, a stinky alien with a secret, and a terrorist with a suitcase-sized nuke, and the stage is set for hypnotic hijinks and some fine dining as only the Amazing Conroy can command.

NobleFusion Press will be releasing the novella as a Trade Paperback on Thursday, November 9th.
However, they're giving away a limited number of digital Advanced Reader Copy (ARCs) to readers who pledge to post a review to Amazon.com on the novella's release day.
If you'd like to jump the queue and get the book for free, all you have to do is click this link.

cover art by Rebecca Wang
#SFWApro