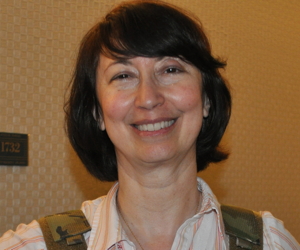 Well it's another glorious Monday. In part because over the weekend I finished a draft of the BARSquel, and this week in addition to assorted polishing and trimming of the MS, I'll also be going back to work on a completely different book. And in part because (at least here in Pennsylvania) it is Martin Luther King Day, which many will use as a day of service, a day of giving back, and I think we can all benefit from that attitude. And finally, in part because by the time you read this I'll have come and gone for a quarterly blood draw, and it makes me feel good to be staying on top of health issues.
In a perfect world, some portion of that last paragraph would provide a brilliant segue for this week's EATING AUTHORS guest. Alas, Jody Lynn Nye did not help me write my novel. Nor do I know how she's spending the holiday. And I'm pretty sure she hasn't any influence on the results of my bloodwork. So the segue is a non-segue, but what I can tell you about her is that I've been reading her work for years and even got to publish her one of her stories in the Paper Golem anthology Cats in Space.
Like me, Jody was born in Chicago. Unlike me, she's authored or co-authored more than forty novels, and more than one hundred short stories. She's played in some pretty impressive universes like Anne McCaffrey's Dragonriders of Pern series, Robert Asprin's Myth series, and Piers Anthony's Xanth series. She writes both science fiction and fantasy, and does so with both action and humor. If you need a good story and a smile, I can't think of anyone better to read.

LMS: Welcome, Jody. Please, tell me about your best meal.
JLN: The best meal I can ever remember eating was at a French restaurant named Le Francais. The owner, Jean Banchet, was a culinary legend in the Chicago area. This place, tucked into a cozy little lot in a nondescript north suburb, was a quiet gem. This was our special-occasion place. Banchet turned over the reins to a couple, Roland and Mary Beth Liccioni. She was front-of-house, he was the chef. They were brilliant heirs to the establishment, keeping the quiet, French country style of the decor and the leisurely service, coupled with excellent food.
The room always had a quiet feel to it. People spoke to one another over their tables in an undertone. If there was music, it was just this side of inaudible, never interfering with the ambience. Mary Beth Liccioni would be at the hostess station, welcoming guests. She would turn us over to the plump, balding maitre'd in his tuxedo. He remembered us as frequent guests, asking about our health as he showed us to our chosen table. The room gleamed with polished flatware and gold charger plates on a sea of perfect white linen tablecloths. A large triangle of soft butter and a basket of hot, crusty rolls appeared alongside the big, hardcover menus. It was impossible to resist the bread. The rolls were perfect. I can still taste them. Le Francais offered a prix fixe menu of two or three courses as well as a la carte. They also had special occasion menus, relying on French classics.
One of the marvelous things about Le Francais were their dessert souffles. If you wanted one, you had to order it in advance so it would be ready at the conclusion of the meal. In my opinion, their two best were chocolate and raspberry. Their other desserts were perfect, too, so it was a hard decision.
They would bring us an amuse bouche, one tiny bite on a little plate or a Chinese soup spoon.
We always started with the charcuterie plate. I love pates. Le Francais offered a large platter with at least five selections, garnished with cornichons, whole grain mustard, tiny dollops of intense-flavored sauces, and served with a basket of hot toast soldiers. At the center was the chicken-liver mousse, delicate, fresh and almost sweet. I did my best to leave it for last. The country pates and terrines included rabbit, venison, pork, pheasant with pistachios, and a few others, depending on season and availability. These were coarse-cut, with visible chunks of fat among the bits of meat which resisted spreading on the bread and required some care to get into one's mouth without losing some. Le Francais offered generous portions, so we had to decide if we were going to share a platter, leave some pate on the plate (unthinkable!), or eat it all and risk overdoing it on the main course and dessert.
Next came soup and/or salad. My husband loved their Caesar salad, big, crisp hearts of romaine with roughly torn croutons from the same perfect bread, toasted lightly, and a garlicky, quivering, taupe-colored dressing. I love soups. The best soup in the world was my grandmother's chicken soup, but in second place was Le Francais's duck consomme. It was a double consomme, clear bronze in color, with a couple of pale beige quenelles floating in it. The first sip almost made you gasp in its complexity, richness and aroma. The second sip you would hold on the tongue for a moment, tasting the meat and herbs. It always took me forever to eat it. I can still taste it in my mind.
Le Francais was my first introduction to sorbet between the courses to freshen the palate. I don't drink, so often I would have to refuse the doll-sized scoop of wine sorbet, but the fruit ices were lovely.
The main course arrived under silver domes. This was the chance for the staff to show off a little. Each dome had a handle at the top shaped like whatever beast had provided the protein beneath, so I had a silver steer on mine. The waiters waited until each persons plate was set down, then they swept away the domes all at once. My tournedos of beef were fat little fillets of pink meat beside turned carrots and turnips, plus whatever mange tout the chef had bought that morning. Served just under medium, the steaks were so tender that a knife was only needed as a suggestion. The mashed potatoes were about half cream. A touch of the rich sauce ladled over the steak gave them savoriness, but they hardly needed it. The small vegetables were dainty and crisp, with a green flavor and skins that popped under your teeth.
If you had ordered the souffle, it came then. The light-brown puff rose straight-sided from the cylindrical, ridged bowl. When he set it down, the waiter pierced the top with a spoon, allowed the steam to rise, then poured the creme anglaise into its depths. It was a great performance. I felt like applauding. The souffle itself started to collapse ever so slightly as I attacked it with the oversized dessert spoon. The crust needed to be clipped against the side of the dish to carve it loose, then dipped into the sauce. I liked my chocolate souffle with either raspberry or passion-fruit sauce to give it a mouth-watering tang. Each bite had a slightly rough texture along the edge where sugar had been used to coat the dish before the batter went in.
I ended with a pot of tea, hot, flavorful and astringent, with one lump of raw sugar from the covered bowl in the middle of the table. There's a feeling of contentment that good food brings to one, like curling up in a big, soft quilt on a rainy day. Perhaps we had overeaten just a little (half the main courses were on the edge of our table, wrapped in foil shaped to look like swans), but it was a wonderful experience.
I miss Le Francais, and the other wonderful French restaurant a little farther to the northwest, Le Titi de Francais. The Liccionis have moved on to their new restaurant, Les Nomades, in downtown Chicago, which is as brilliant, but much farther away.

Thanks, Jody, your experiences French restaurants are a world away from mine (both in the US and in France). You give me hope that I may one day experience the glory of the cuisine.
Next Monday: Another author and another meal!
Tags: Eating Authors