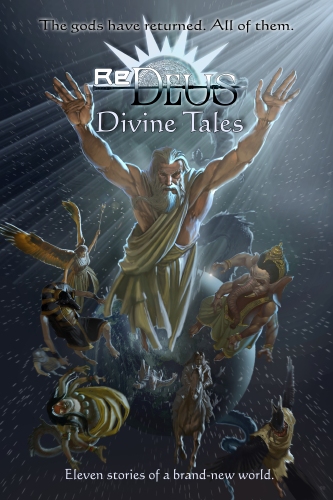 On June 19th, Bob Greenberger sent me an email inviting me to join in an exciting new project that he had whipped up with Aaron Rosenberg, Steven Savile, and Paul Kupperberg. They were creating a shared universe called ReDeus. The premise was breathtaking: At the opening of the Olympic Games on July 27th, 2012, the gods of myth and legend – all of them, Zeus and Odin and Anu and Cernunnos and Abeguwo and and Yu-huang and Osiris and Ilmatar and Shiva and Kukulcan, seriously, all of them! – come back. Got that? Okay, now jump forward twenty years, and write a story in the world that has been transformed.
There was just one catch: they wanted to launch the book at Shore Leave, which meant the deadline for submissions was July 10th.
Okay, in my case, there was another catch: There was a minor snafu and I didn't get the email.
Well, that's not quite true. I did get it eventually, a week later. That made it a bit tougher, but the premise was so cool, and the people working on the project were folks I'd known for year but had never worked with, so even though I was in the midst of reading slush for the Cucurbital 3 anthology I put that on hold for a few days and wrote a story.
And I must have done all right because it's been accepted and will be appearing in the anthology, coming your way on August 3rd.
I'll have more to say about my story in a future post here, but for now, let's all just gaze at this incredible cover by Anton Kokarev, shall we? Yes, let's shall.