Welcome to the first of this year's Campbell Award Nominee Eating Author segments.
As a former Campbell nominee myself, I feel a certain joy in doing my own small part to promote the five writers who are up for this (not a Hugo) award. And for some of you, it's an opportunity to get to meet an author you've not read before. Not only do you get to put a face to a name, you get a taste (no pun intended) of that person before you read the book.
Joining us this week is Stina Leicht who was nominated in her first year of eligibility, having wowed readers with her novel Of Blood and Honey, which was published by Night Shade Books last year. The sequel, And Blue Skies from Pain came out just over two months ago in late March.

LMS: Welcome Stina. Let's get right to it, what's your most memorable meal, when and where?
SL: My favorite place to eat is a four star Irish restaurant called The Emerald located just outside of Austin, Texas. It's run by a family who immigrated from Ireland in the '80s, I think. My favorite dishes are the roast duck in brandied cherry sauce and the salmon steak with saffron sauce. The whiskey cake is to die for. Seriously. I've never had another that was anywhere near as good as David's (the chef) whiskey cake.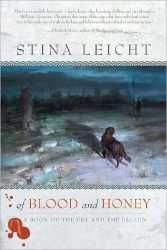 Second place goes to a restaurant my husband and I ate at while on our honeymoon in New Orleans. I wish I could remember the name of the place. Best blackened salmon I've ever eaten. Melted in my mouth. That fish led a very happy life.
Yes. I've a thing for salmon. I admit it. 🙂

Thanks, Stina. You know, I don't think I've ever had whiskey cake. How is that possible? And now you're telling me I have to go to Austin to make sure I'm not disappointed? Oh, so cruel!
Next Monday: Another Campbell Nominee and another meal!
Tags: Awards, Eating Authors