We continue our series of weekly visits with science fiction and fantasy authors and their culinary recollections, or as I like to call this feature: Eating Authors. Our guest today is one of my very favorite writers, Mark Tiedemann. Like many of this feature's guests, Mark is an alumnus of Clarion. He's best known for the dazzling short stories and novels that make up his Secantis Sequence (Compass Reach, Metal of Night, Peace & Memory, and Other Ways:Three Tales From The Secant ), and if you haven't read them, you need to rush right out and start because this is galaxy-wide SF unlike anything you've experienced before! You'd think that would be enough for an author, but no, Mark also has the distinction of being one of only a few authors to play in Isaac Asimov's sandbox, penning three robot mystery novels (Mirage, Chimera, and Aurora) set in the years between Asimov's The Robots of Dawn and Robots and Empire.
When he's not writing, or committing photography, Mark has the distinction of being the president of the Missouri Center for the Book. I pursued Mark for months, pestering him to send me a description of his most memorable meal. When he finally did, I promptly buried it under a virtual pile of other email (sorry about that, Mark). Fortunately, I found it again, and now I can share it with you.

LMS: Mark, your time has come at last. If you'd be so kind, speak to the good readers of this blog about your most memorable meal.
MT: Sharing meals is one of the best parts of friendship. You can eat with anybody, but among friends it's not just food. There's renewal, impromptu ritual, celebration, even occasionally validation. Especially when the meal is more than just a sack of burgers and fizzy water in a paper cup. Food and friendship enhance each other. The most memorable meals are always with friends, but is it the food or the company that make them so?
In some cases, the answer is: both.
I've had many excellent meals by myself or in company with relative strangers, but the memory of them is often hazy and sometimes gone. Some other event is required to nail them down. I've also had countless mediocre meals in company with good friends that made the occasion memorable despite the culinary shortcomings.
That said, I can without hesitation describe the best meal I've ever had.
Nicola Griffith and Kelley Eskridge are two of my best friends. We met at Clarion, the workshop, in 1988 and of all the excellent folks there at the time, Nicola and Kelley became the kind of lifelong friends everyone should be graced with. First and foremost they are exceptional human beings. Both of them also happen to be among the finest writers I've encountered. I watched them falling in love during the course of the workshop (and feel lucky that I was aware enough to recognize what was happening) and since Nicola moved to the United States, Donna and I have been to their wedding in Atlanta, guests in their homes on several occasions, hosted both of them in our home (though simultaneously only once), took Nicola from St. Louis to Kansas City to win her Nebula Award (for Slow River) and generally shared a great deal of good over the course of our friendship.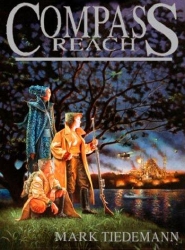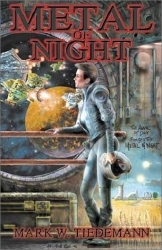 Even so, it came as a surprise when they invited us to their 20th Anniversary Celebration, late June of 2008. They live in Seattle now and we're still in St. Louis. They had chosen a select group of their closest friends from all over the country to attend a special dinner party. Just because.
There was no question of not going. It's a long flight from St. Louis to Seattle. Kelley had set up a block of rooms at a nearby Holiday Inn and met us there to guide us into the neighborhood where they had moved since the last time we had visited. They live on a quiet street, at the bottom of a hill, near a strip of parkland. On a pleasant Saturday evening, several people from all parts of their lives gathered to dine on an exquisite array of foods, prepared by a chef brought in for the occasion.
Chef Becky Selengut did an impressive job. At each course she gave a brief lecture about the food and the preparation.
Sweet pea pancakes with applewood smoked bacon, minted fresh cream and pickled red onions to start, followed by a cold avocado and coconut with shiso oil soup (or "half pints" as she called them).
We moved on to poached quail eggs on toast, frisee with truffle vinagrette, sturgeon caviar, and seared boletus mushrooms. I remember flavors mingling in my mouth I had never encountered. (This was the first time I'd ever had caviar—I'm not much for fish.)
Donna had the roasted black cod with pinot noir sauce, done with morels, fennel shavings and candied fennel rings; I had the grilled lamb chops with quinoa cakes, spinach puree with foie gras (another first, foie gras), and tomato jam.
Dessert was a Washington strawberry cobbler with sweet cream basil biscuits, olive oil (!) ice cream, and balsamic syrup.
Along with all this came an assortment of wines, the pinnacle of which was an '87 Rioja…
My palate loved me. Too many new flavors, all done by someone who clearly understands food at its finest.
But the best part was the evening's quiet celebration. There was deep affection throughout the night, stories, intersections, excellent conversation. The common bond were these two women we all obviously held in high esteem and respect. That evening was a gift they'd given themselves, but it was a communal gift, requiring all of us to give as well, and that was done unreservedly. We experienced not only haute cuisine but, if you will forgive the misused French, haute colloque.
The most memorable meals are always in the company of friends.

Thank you, Mark. It may sound trite but I have to go with it: truer words were never said!
Next Monday: Another author and another meal!
Tags: Eating Authors