Earlier this month I attended one of my favorite conventions, Capclave, where among other incredible things I was on a panel with this week's EATING AUTHORS guest, Edward M. Lerner. As the panel's moderator, Ed had the unenviable task of both keeping me on topic and telling me to shut up and let other people talk. He did both of these so well that I immediately invited him to come here and tell you about his most memorable meal. But before we get to that, a bit more about the man behind meal:
Ed writes both short fiction and long, everything from traditional SF to near-future technothrillers. He brings three decades of experience in aerospace and related high-tech industry to his writing and this probably goes a long way to explaining his nominations for the Locus, Prometheus, and Hugo awards. Last year he took home the first Canopus Award "honoring excellence in interstellar writing" for his novel InterstellarNet: Enigma. And of course, you've likely seen his name on the popular Fleet of Worlds series that he co-wrote with Larry Niven, because, seriously, Ringworld!

LMS: Welcome, Ed. Now that you've had time to recover from the debaucheries of Capclave, please tell us about your most memorable meal.
EML: At first blush, to write about my most memorable meal should be easy. The Lerners are all about food. Grandfather Lerner owned a grocery; three of his sons, my dad among them, took over that store and, in time, owned other groceries. My brothers and I all worked in the stores after school and during summer vacations. Gather a few Lerners and, within minutes, we'll wax eloquent about fondly remembered meals, upcoming meals, and one dish or another that sounds interesting. Even while we're already eating …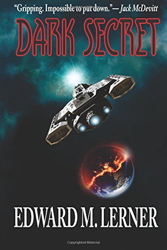 But to choose one most memorable meal? That, it turns out, is hard. And it begs the question: memorable, how? Memorable for the food itself and, if so, for being exotic or (like a traditional Thanksgiving feast, always a favorite of mine) for being comforting? Memorable for the company around the table, the event itself, or an unusual circumstance? What metric can compare family holiday get-togethers, expense-account feasts (during my first/technologist career – certainly not as an author), and romantic dinners?
So: this feature being about author's meals, I'm going with the meal most memorable in my writing career. I was at the 2000 Worldcon, in Chicago. This was not only my first Worldcon, but my very first SF con of any kind. I soon found myself in (what I know now is) the traditional overloaded state of the uninitiated. Writing had been a hobby for years, and I even had a few modest publication credits to my name, but that had all been done on a solitary basis. Until this con, I had yet to meet, face to face, a single SF author, editor, agent, or publisher.
I had, however, recently sold Analog a trio of novelettes. (The first of them, "Dangling Conversations," was even in the then latest issue, given away promotionally in the con's hucksters room. The three stories eventually grew into the opening half of InterstellarNet: Origins, which, in turn, became the first novel of my InterstellarNet series.) And early during the con, Stanley Schmidt, then the longtime editor of Analog, invited me to join him and two other new contributors for Sunday brunch.
By the time Sunday rolled around, I had come down with the world's worst cold. (Of course, I've since departed many a con exhausted and with one bug or another. I didn't yet know this was customary. Perhaps an ironclad law.) But cold be damned, no way would I pass on my first meal invitation from an editor, much less an invitation from Analog's editor.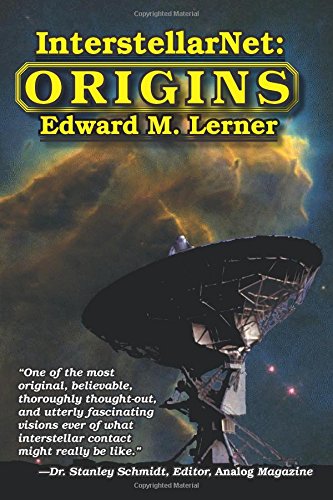 And what a gathering it was! Stan Schmidt, legendary editor of the biggest circulation zine in the genre. Legendary author and editor Ben Bova asked if he and his wife could join us (and eventually Ben insisted upon picking up the tab). Legendary literary agent Barbara Bova. My talented fellow newbies—and soon to be SFnal stars: John G. Hemry and James Van Pelt
.
This brunch is where I stopped being a solitary writer and joined the SF community. Where even legendary authors and editors stopped being, well, legends, and started being colleagues and, in time, friends. Memorable? You bet.
All that said, the question was about a most memorable meal. Did I eat? I'm pretty sure I ate … something. Maybe a fork was involved. But I'm sure that I drank.
Orange juice. Lots and lots of orange juice.

Thanks, Ed. Cleary a benchmark moment. I've never considered orange juice to be a rite-of-passage beverage, but I'm going to have to rethink that.
Next Monday: Another author and another meal!
Tags: Eating Authors